Welcome to the Cue Games Exhibitions website

See Pete's AMAZING Chalkless Super-Grip Cue Tips1 ©2012 here
Did you know that it is possible to play over seventy different games on a snooker/pool table?
Yes, in addition to Billiards and Snooker it is possible to play Cricket, Golf, Bowls, Pete's Snooker, Pete's Billiards, Indian Pool, 5 Pin Pool, Skittle Pool, Mr & Mrs, Snooker Plus, Bottle Pool, Russian Pool, Cowboy, Volunteer Snooker, Fourteen-To-One, Pyramids, Life Pool, Cribbage, 101, Three-Cushion Billiards, Four Ball Caroms, Straight Rail, Bank Billiards, 9-Ball, Red Ball, Forty-One, Kelly Pool, One-And-Nine Ball, One Ball, Odd Ball, Bowliards, Line-Up, Fifteen Ball, Eight Ball, Ten Ball, One Pocket, Seven Ball, Six Ball, Bank Pool, Rotation, Ten Ball, Equal Offense, Cushion Caroms, Volunteer Billiards, etc.
A "Potted" History Of How It All Began
When I was about 10 years old, my grandparents took me to see a Snooker Exhibition Match by Ray Reardon organised by the Ffestiniog & District Snooker League at 'Y Ganolfan' (a local community centre) in Porthmadog here in North Wales.
I still have the programme for that evening and oddly enough it's number is actually 147!
Since then, I've had the pleasure of promoting several Snooker Exhibitions by Ray Reardon during the end of the 1980's and early 1990's
I have also promoted Snooker Exhibition Matches by Mandy Fisher and Sarah Smith, the late Cliff Willson, John Spencer and Eddie Charlton and some Billiards Exhibition Matches by Rex Williams and the late Fred Davis and Jack Karnehm.
In March 1988, I became the "Youngest-Ever" person to qualify as a Billiards & Snooker Foundation National Coach, under the Billiards & Snooker Control Council, despite the fact that the Foundation's minimum age limit for a Coach was 25, but at the time, I was only 22!
In 1990, I became a member of the World Professional Billiards & Snooker Association and played on the main Professional Snooker Circuit during the 1991/92 and 1992/93 Seasons. I have been playing my own Cue Games and Amazing Telepathic Trick Shots Exhibition Matches ever since.
A Typical Exhibition Match
A typical Exhibition Match would include a demonstration of about half a dozen different Cue Games against the club's members and the evening's entertainment concludes with a series of some of the most "Amazing Telepathic Trick Shots!" (which I have devised myself)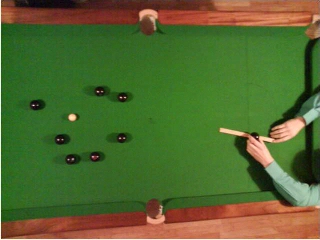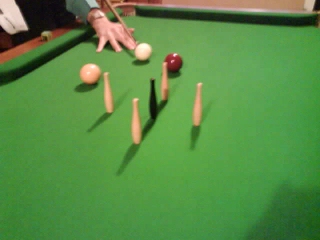 A game of Billiard Table Bowls in progress                                     A game of 5 Pin Pool taking place
Trick Shots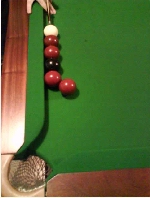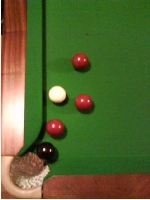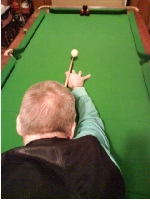 Potting the Black Ball into corner pocket                Striking Black without contacting Reds
To order the red Accu-rest kit and "Pete's AMAZING Chalkless Super-Grip Cue Tips1 ©2012" Click here
A series of ten A3 Sized "Potted History" and a series of A4 Sized "Cartoons" prints are available for sale. Click here to view samples. Click here to view order form.
An A5 size booklet of "On This Day In..... - A Potted History" for each day for a whole year shall be available for sale in both English and Welsh soon. To view English samples, click here Er mwyn gweld esiamplau Cymraeg, cliciwch yma
For Bookings or any further information please contact:-
Peter Williams
1 Gwilym Terrace
Penrhyndeudraeth
Gwynedd
LL48 6DE
Phone - 01766 770586, Mobile 07917 807832
e-mail - peter@cuegamesexhibitions.co.uk
Skype - peterwilliams147
Twitter - https://www.twitter.com/petervwilliams
Facebook - http://www.facebook.com/profile.php?id=100002165034538&sk=info
I support Organ Donation, Click here for more info.